---
Actual Schedule:

- no concerts sheduled (except a few sessions)
- recording activities March 23rd to April 8th 2018
- more's coming soon ;-)
---
About me:
Born in 1963 I grew up in a "low level"musical environment. A bit of singing and guitar playing ...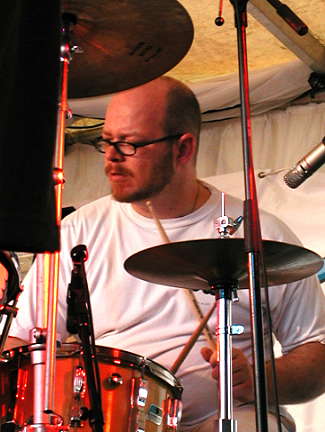 I fought until the age of 16 to get an own drumset (which I finally bought myself after two years of doing paid jobs in school holidays on Sept.13 1979 ( YES !!! )

A few weeks later my "musical career" started by founding one of the first German Punk Rock Bands named FUCK ... the first public concert I played Dec.31st 1979 !

But soon I detected my love for more complex music and rhythms when I heard the "Spectrum" by Billy Cobham. While trying to play that stuff unfortunately I was sure it would be a looong way :-) ... and it still is !

After a few decades now playing nearly all styles and types of music I would describe myself as an intuitive drummer. I'm not the perfect technician but I'm really fast to play together with others and to learn new music/songs/structures. My prefered music style is not clearly defined ... it's a type of Rock Music but paired with complex rhythms ... favourite bands are King Crimson, Dream Theater and stuff around and between this.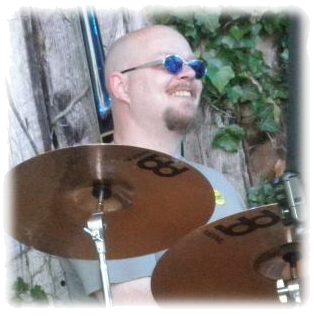 Meanwhile I'm 50 years old but not tired :-) I love it to play live (the more often the better) ... I'm recording records in demand ... and I will do this until someone takes the sticks from "my cold dead hands" :-)

No, I'm not a "professional" drummer ... I would declare myself as an "extended" Semi-Pro ... in real life I'm trying to feed myself by doing IT stuff ... databases, websites, etc

I had (and still have) a few contacts to professionals I'm used to play frequently together with.



Recent Projects/Bands:

Versus X - Retro Progressive Rock, Germany
The Chain, FleetwoodMac Cover, Germany
plus some free projects / sessions groups ... which may become a band (or not)


---
Meanwhile I played in Europe, Africa and USA,
so it's time to visit the other continents :-)
I'm always ready to join a tour
or to be hired as a live drummer
once it can be organized
or use the contact form
---
Equipment:

I own a few drumsets (Pearl, Tama, NP) in different sizes and combinations
(e.g. a complete Set of Roto-Toms set up as a drum kit),
a bunch of percussion instruments (gongs, latin and hand percussion, ...)
and electronic drum equipment (Roland TD 30, SPDS, HPD15)
and I'm used to play it everywhere.





So whatever is necessary and wished for live performances ... I should be able to provide it.
---
Recordings / Videos: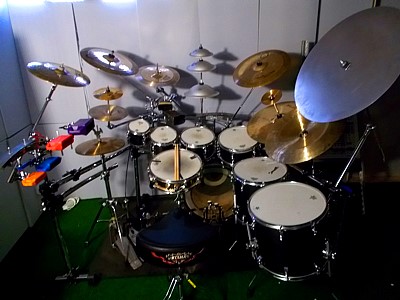 2014:
I'm now able to record drum tracks on demand
in my little recording studio.

Delivery of separated WAV-Files per instrument
or complete Drum-Mix via Server-Download or Dropbox.

Necessary: Klick, Melody Guide Track, Bass Guide Track, Background as MP3 file ...
can be low quality but should be a valid guide through the song.

My studio can be used for band recordings as well.
But only in step by step processing.
All at once playing is not really possible.
The room is too small ;-)


Update 2018:
After the "big" Hardware fucked up ... a rudimental replacement is available.
so ... no sophisticated recording work possible currently
but simple drums solutions (limited # of channels) can always be realized ;-)

or use the contact form

Actually I'm practicing for a CD recording for a German Symphonic Progressive Band
to get that very complex stuff into my head ... to be able to feel it and to play it as it should be played ...

---
A selection of my CD recordings:
Band: My Soul
Style: Heavy Rock
Released: 2000
(designed as a demo recording
it got requested all over the world)
Band: Team TOM
Style: Acoustic
Released: 2006
(originally a Street Live Band
good homerecording to be sold during gigs)
Band: Surprise Attack
Style: Latin Jazz Fusion
Released: 2007
(Live Recording)
Band: Surprise Attack
Style: Latin Jazz Fusion
Released: 2008
(Live Recording / Radio Broadcast)
Band: Apogee
Style: Progressive
Released: 2009
(Studio Project, not a Live band)
Band: Apogee
Style: Progressive
Released: 2012
(Studio Project)

Published DVDs:

Band: Versus X
Style: Progressive
Released: 2010
(Live Recording, no overdups,
playing time > 2 hours / 9 tracks)
Official Videos / YouTube Channels:
---
---